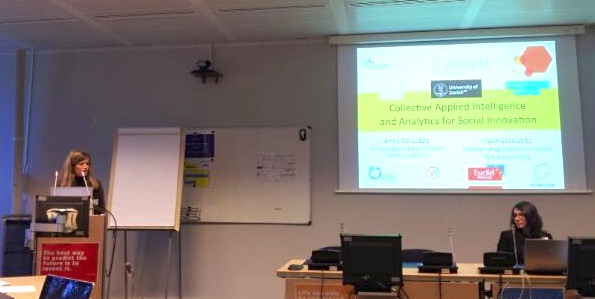 CAPS first concertation meeting: time for feedback
On February 4, partners of the CATALYST project have been invited to attend the first CAPS concertation meeting organised by CAPS2020 project, in the EU DG CONNECT premises. This event, intending to gather all EU-funded projects related to the CAPS topic, has been highly enriching and profitable to seek high-value synergies between partners.
During this intensive day, we had the great opportunity to hear addresses from Fabrizio Sestini (Scientific Officer at the European Commission currently in charge of the CAPS and Internet Science initiatives, and promoter of the CAPS concept) and Nicole Dewandre (Advisor for societal issues to the Director General of DG CONNECT), while all projects had the chance to introduce their activities. The event has also been the first occasion to discuss the organisation of the forthcoming CAPS International conference to be held in the 2nd quarter of this year.
Anna de Liddo (The Open University) and Frank Escoubès (Imagination for People) presented CATALYST vision and expected outputs and it is our pride to announce that our project received positive feedback and that numerous wishes to create synergies with CATALYST have been expressed.
This event was a great success and it has been a real pleasure to meet all these projects, trying to find ways of potential synergies to create critical impact for CAPS developments, during project lifetime and beyond. Discussions will keep going on among projects' partners and we soon will inform you of the latest developments.
Stay tuned and read a related-news from KMi here