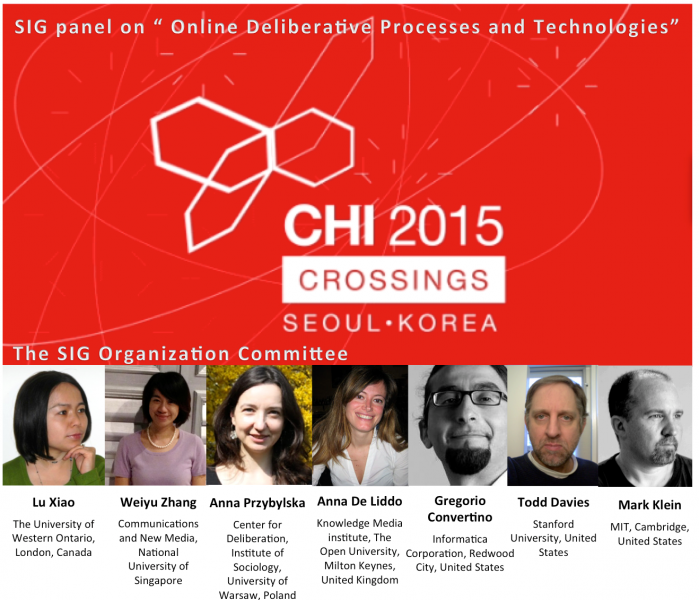 CHI2015 SIG panel on Online Deliberative Processes and Technologies: join the discussion on Deliberatorium
A Special Interest Group (SIG) on online deliberative processes and technologies is gathering today, April 22, 2015 at the CHI2015 conference, to think collectively on the definition and organization of research and design for online deliberative processes and technologies. Two organizers of this meeting among seven are members of CATALYST consortium. Both Mark Klein from the Massachusetts Institute of Technology (MIT), and Anna De Liddo from the Open University will bring to the discussion insights from CATALYST and enrich the SIG perspective with the experience gathered in developing and testing with communities the project Collective Intelligence tools.
The main expected outcomes include "more rigorous definitions of the topics under scrutiny in relation to existing theories, methods, and technologies; a mapping of the space of design problems and promising solutions relevant to researchers and practitioners developing online deliberation technologies, and the identification of horizontal challenges; and the strategies to approach them, when studying and designing online deliberation."
If you were not able to attend this SIG, you can still join the organizer's discussion on Delibatorium following this link: http://deliberatorium.mit.edu/signup?E-1O3FEEL-6
The full description of this SIG on online deliberative processes and technologies is available here (http://kmi.open.ac.uk/news/article/18713) and CHI2015 website can be accessed from here (http://chi2015.acm.org/).