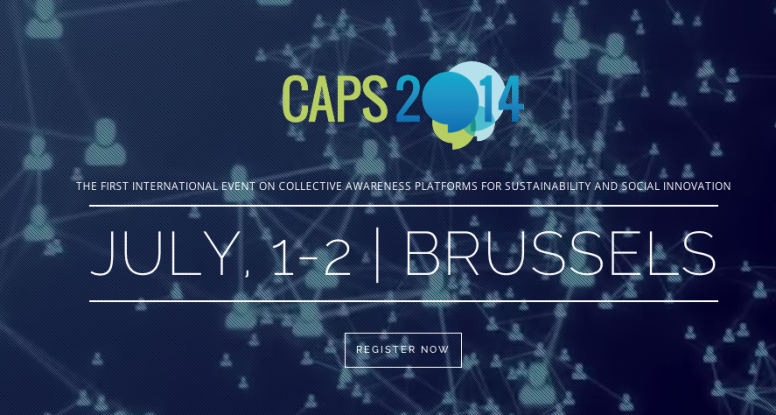 Discover CAPS2014 programme & Meet the CATALYST team!
The CATALYST partners are proud to announce that the first CATALYST event will be held on July 1st this year, in conjunction with CAPS2014, the first international event on Collective Awareness Platforms for Sustainability and Social innovation (CAPS), organized in Brussels, July 1-2.
In the morning, partners will present towards the audience the project activities, its developments and its first outcomes while, on the evening, a promising interactive posters and demonstrations session will give the audience the opportunity to test the current tools developed under the project and discover how CATALYST developments can boost local initiatives in the area of social innovation, increase awareness on new sustainable lifestyles, support eGovernance efforts of European cities and even empower citizens and the civil society in debating emerging issues
Get funded for testing the tools!
During this event, the partners of the CATALYST project will officially launch an Open Competition, assigned with 40 000€, to award 2 community partners with necessary resources to trial the tools, processes and methodologies developed through the project research activities, among their own communities! Be the first to join the competition!
We are looking forward to meeting you in Brussels! For registration, click here.
Get a closer look to the CAPS2014 event:
Beside the CAPS projects, which will be all represented on the 2nd July Pecha Kucha at the European Commission and organise some of the OFF workshops on July1st, the programme aims at aligning different kind of institutions, individuals and European networks working at the cutting edge of social innovation and civil engagement: Solve Together, Barry Wellman from the University of Toronto NetLab, Code for America, the Young Foundation, TOPix, ENoLL, FI-PPP, ICT & Art Connect, EINS, P2P Food Lab. A BarBeerCamp will provide a space for attendees to present their own digital social innovation initiatives.
On July 2, the CAPS2014 Conference part, held at the European Commission (Charlemagne building), will be formally opened by Mr Robert Madelin, DG of European Commission's DG Connect. It will provide participants with an overview of current projects and initiatives, and include an information session on the upcoming CAPS Call under Horizon 2020.