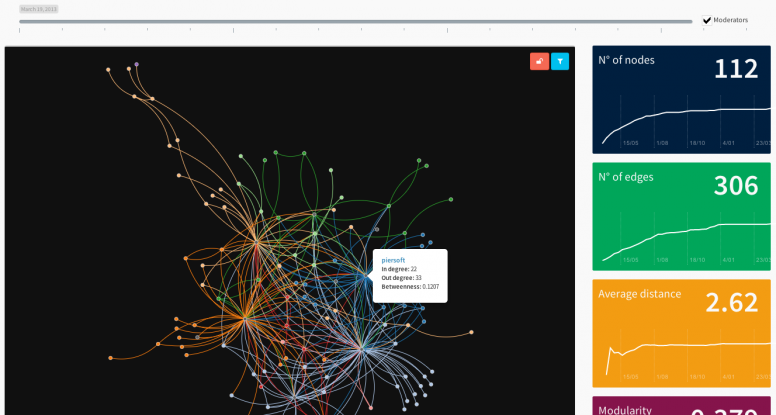 Join the Network Pizza and get the chance to test Edgesense on July 20 in Matera!
"Online communities are a thing of mystery and wonder. How is it that people who have never met argue passionately, create projects together, become friends and sometimes enemies? The answer, I think, has to do with interaction across humans and its patterns. And we have an intuitive way to think about interaction: networks." – Alberto Cottica
As already mentioned, the CATALYST project has entered its trial phase to test the tools and refine their developments.
On Sunday July 20th at 17.00, at the Matera unMonastery, Wikitalia (currently developing the Edgesense tool) will be giving a workshop on "using network analysis to understand online conversations", including a final practical exercise in which each participant will explore the network and makes sense of it using Edgesense, through its interactive tutorial
Futhermore, don't miss the chance to go through:
The basic concepts on networks
How and why to use network analysis as a tool to manage online communities? Edgesense will be used as a tool, and the MT2019 community as a case study.
Some more advanced examples.
Join Wikitalia @the Network Pizza and register here: http://goo.gl/6iibze. And because you will well deserve it, you will have the opportunity to deepen the discussions around a nice, tasty pizza!